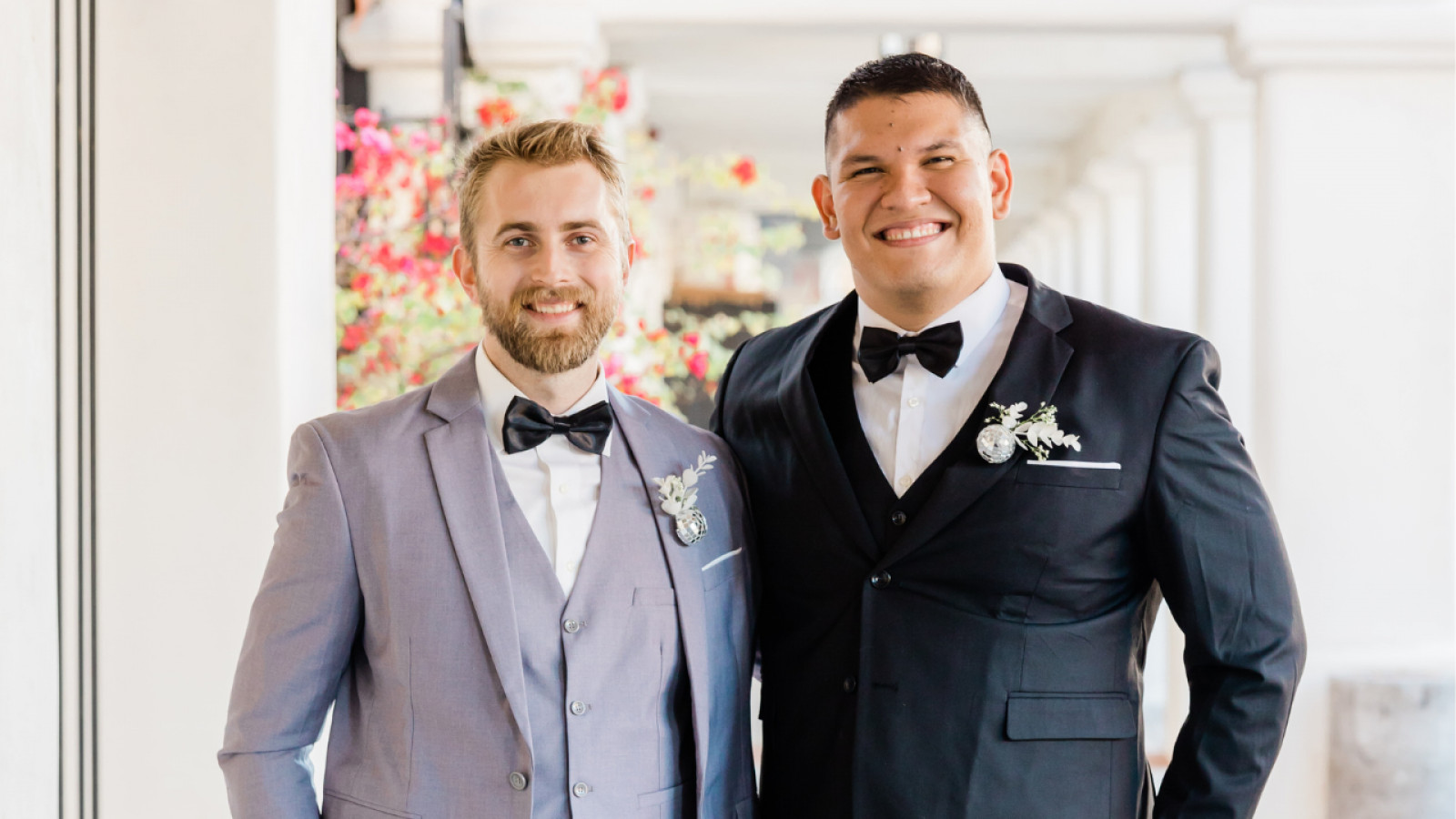 How To Be The Best Groomsman
Article Published 23/05/2023
How To Be The Best Groomsman
Being a groomsman is more than just standing next to your friend on his big day. It's a role that comes with responsibilities, expectations, and opportunities to make the wedding memorable for everyone involved. The groomsmen are the male (but can also be female!) attendants to the groom on his special day.
Traditionally the groom chooses his closest friends and relatives to be his groomsmen—the select few tasked with the special honor of both supporting him throughout the wedding planning process and adding positivitity throughout the day. If you try and keep the groom as chill as possible on the wedding morning aswell, they will thank you for it!
Here are some tips on how to be the best groomsmen ever, from the planning stages to the reception:
Before the Wedding
Its always nice to get someones else perspecitive on 'how you look', thats why it's important to help the groom with his outfit. Whether he's wearing a suit, a tux, or something else, make sure he looks sharp, dappa and stylish on his wedding day. You can help him pick out his attire, tie his tie or bow tie or adjust his cuff links. You can also coordinate your own outfits with the groom and the other groomsmen to create a uniform look.
Plan an epic stag do-
One of the most fun parts of being a groomsman is organizing the stag do for the groom. However you wish to plan the stag do is down to you however be sure to always check in on your groom to make sure he has any parts which he would rather avoid. Choosing your destination of stag do can also be challenging and may not be feasible for all other guests involved so again make sure that between the team, you also discuss money and what is affordable or not. From a weekend break locally, to a weekend away abroad, or booking an event for the team, the key is to choose something that suits the groom's personality and preferences, and that everyone can enjoy. Don't forget to take lots of photos and videos- memories that will last a lifetime i'm sure!
Be supportive and helpful-
Planning a wedding can be stressful and overwhelming for the groom, so be there for him when he needs you. Just knowing that you are by his side at all times is the simpliest yet most meaningful part that you can play. Be there to offer advice, lend a hand, or just listen to his worries. You can also help him with any wedding-related tasks, such as booking vendors, making playlists, or writing vows.
On the Wedding Day
The morning of the wedding is a great time to bond with the groom and the other groomsmen. Whether you decide to get up early and go for breakfast together, go for a walk or a quiet drink somewhere, fill your groom with positivity- especially on their wedding morning! Whilst getting ready, help your groom with his tie, cufflinks or bow tie, this gives your wedding photographer the perfect opportunity to take candid photos of you both getting ready, having a laugh and enjoying one on one time with your friend- bromance at its finest if you have a male groomsman.
Be on time and prepared-
The last thing you want to do is cause any delays or problems on the wedding day. Make sure you know the schedule, the venue, and your duties. Bring everything you need, such as your outfit, your accessories, your speech and your gift. Arrive early and check in with the groom and the wedding planner- being behind on the day can cause unnecessary stress that can be avoided as long as everything runs on time and smoothly, if you feel like any factors on the day i.e venue may be running slightly behind, be sure to ask member of staff to be kept in the loop without it bothering the groom and partner on their big day.
Have fun and be respectful-
The wedding day is a celebration of love and happiness, so enjoy yourself and make the most of it. However, don't forget to be respectful of the couple, their families, and their guests. Don't drink too much, don't make inappropriate jokes and don't cause any drama- Remember that you're there to support and honor the groom and his partner.
Dont forget to take lots of photos-
Although the chances of having a photographer is very likely, theres nothing wrong in getting some extra shots leading up to the wedding and on the day.
After the Wedding
Its nice to thank the couple and their families for being there on the day. After the wedding is over, don't forget to express your gratitude to the newlyweds and their parents for inviting you to be part of their special day. You can send them a card, a message, or call them.
Stay in touch with the groom-
Just because the wedding is over doesn't mean your friendship with the groom is over. Keep in touch with him and see how he's doing in his married life. You can also plan some activities together, such as catching up over coffee, watching a game, or going on a trip. Being by the groomsman side at all times before the wedding, during and after married life is a way that reaffirms that the decision to make you best groomsman was the best choice that your groom could make and one which he will appreciate.
By following these tips, you can be the best groomsmen ever and make your friend's wedding unforgettable.
Recently engaged? Find Wedding Photographers and Videographers all in one place! See exact prices, availability, message and book safely and securely... All for FREE . Compare wedding photographers & videographers
Browse all our amazing suppliers now
https://bit.ly/3bgLkFe