Atken Photography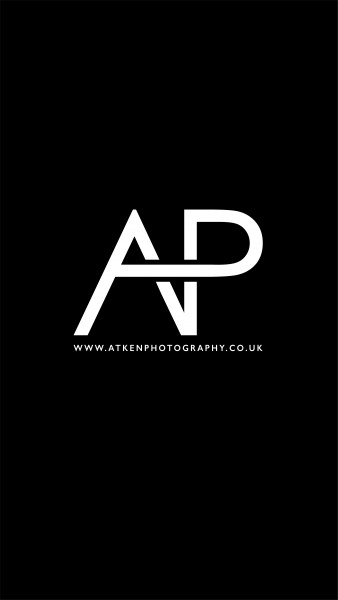 Bridlington, East Riding of Yorkshire
Send Message
What we're all about
Those laughs, smiles, tears, kisses, holding hands, chatting guests, a little tipple, speeches, table arrangements, having a good old natter with parent's and grandparent's, that moment when you first see each other. If you plan on having any or all of these things at your wedding then definitely invite me along!
Check out our photography
USB and download collection - £1600.00

I believe in keeping things simple. The package price is fully inclusive of the time from bridal/groom preparations in the morning through to first dance and the dance off / breakdancing pictures! (full day), a complimentary pre-wedding shoot if you would like one (within a radius of 30 miles the shoot is free of charge), consultations leading up to your wedding, fully edited photographs, password protected online gallery as well as the mobile app (downloaded from the app store or google play store) for you and your family/friends to view and download and of course presentation USB and / or a wedding album (I have album choices that can be added to your wedding, either before or after the wedding day.) Proofs are ready approximately 5-6 weeks after the wedding (sneak peeks are always available sooner!) The deposit to secure your wedding day is £200. You are then always welcome to make payments in between now and your wedding.
Payment Terms
Once your booking is made you can pay the outstanding balance as and when you please, the suggested amount for each transaction is £100.
Price: £1600.00
Deposit: £200.00
Final payment due: 2 Weeks Before Booking Date

Congratulations
Your booking request has been sent to your chosen supplier!
Once your booking is confirmed we will notify you via email and text, then all you need to do is pay your deposit amount.
Thank you for booking with

Becky Dennis
Brilliant photographers! Friendly couple, highly recommended!
Ruth Petch
Another fabulous photo shoot with perfect photographs, thank you so much again Shane. We love them! X
Keeley Woolford
Absolutely brilliant both of them a pleasure to have by your side on your special day x
Catherine Farn
Shane and kelly are an amazing team, they made our wedding do so special and captured some amazing moments. I could not have picked two better people to look after us and shane went above and beyond his duties, by getting in the river to get a perfect pic!
Lauren Snow
Over the moon with our beautiful wedding album! Thank you for capturing our big day so elegantly. I would and do highly recommend Atken photography. Thanks again!
Jessica Brunton
Our wedding album is amazing! Thankyou so much for everything, couldn't recommend you enough! Xxxxx
Lauren Walton
We received our beautiful wedding album today, thank you to Shane & Kelly for capturing our day so amazingly! On the day they did everything they could to get some awesome photos, especially getting our wedding car into the grounds of Burton Agnes Hall when there was a Jazz festival on! Thanks again, we're over the moon with our album. Kevin & Lauren x
Kirsty Louise
absolutely amazing; if your wanting modern; elegance; unique; tailored; fun photographs then Atken are for you. Kelly and Shane are amazing right from Kelly getting you looking beautiful in your dress through to the both of them capturing you in a way you never knew you could look; beautiful; film star; handsome; magazine ready!!! Perfect at listening and sharing ideas; a mind full of creative ideas; framing the moments forever xx
Jenna Jackson
Right from the start Shane was friendly and professional & we knew he would be perfect for photographing our wedding day. He helped with Johns nerves at the pre-wedding shoot and on the day he and Kelly were amazing and went above and beyond to get the perfect shot. Shane is a perfectionist, and it shows in the beautiful, unique photos he takes. Our family and friends loved them both. We can't wait to get our album and show everyone. Thank you guys so much xx
Gareth John
Quality pictures Real nice funny guy what more can I say
Jo-anne Bowes
Wow. All our wedding photos are outstanding, and the album was amazing. Better than we could of ever imagined. Both Kelly and Shane are so friendly and very professional and we couldnt have asked of better photographers for our special day. You really did capture our perfect moments and have now given us a life time of memories to look back at, and for that we are so grateful, so thank you.
Kayleigh Gray
What an amazing guy totally made us feel relaxed! We loved having you as part of our special day! Thank you! Xx
Rachel Dube
These guys are amazing!! They attended my brothers wedding and they are incredibly good. Go above and beyond to get a perfect shot, even if it means climbing a few fences. Highly recommended. Thanks for making my brother and his wife's day brilliant. X
Melissa Ann Kay
I had the pleasure of meeting Shane and Kelly on Saturday- I would just like to credit their professionalism and their passion towards their work. They mixed amazingly with the guests and were nothing but accommodating for me as a Videographer. I hope to work with Atken again in the near future! I'm sure Kerry and Josh will be astounded by their photographs!
Alexandra Goode
Shane and Kelly are amazing! We loved spending time with them both before the wedding and on the day, they are great fun and they captured our day perfectly. They were really accommodating, have lots of fab ideas and loved to hear our ideas too! They made us both feel so relaxed and captured so many beautiful natural photographs. We absolutely love all of our photographs and our wedding album and we cannot thank Shane and Kelly enough for everything! Would definitely recommend and hope to use again soon xx
Laura Lloyd
Shane and Kelly were amazing both before, during and after our wedding day. We were always at ease and Shane did a fantastic job of organising guests without being too formal. Our wedding album is perfect and we will treasure it forever. We can't thank them enough for capturing the beginning of our marriage so beautifully.
Please login to view this supplier's availability.
Back to results