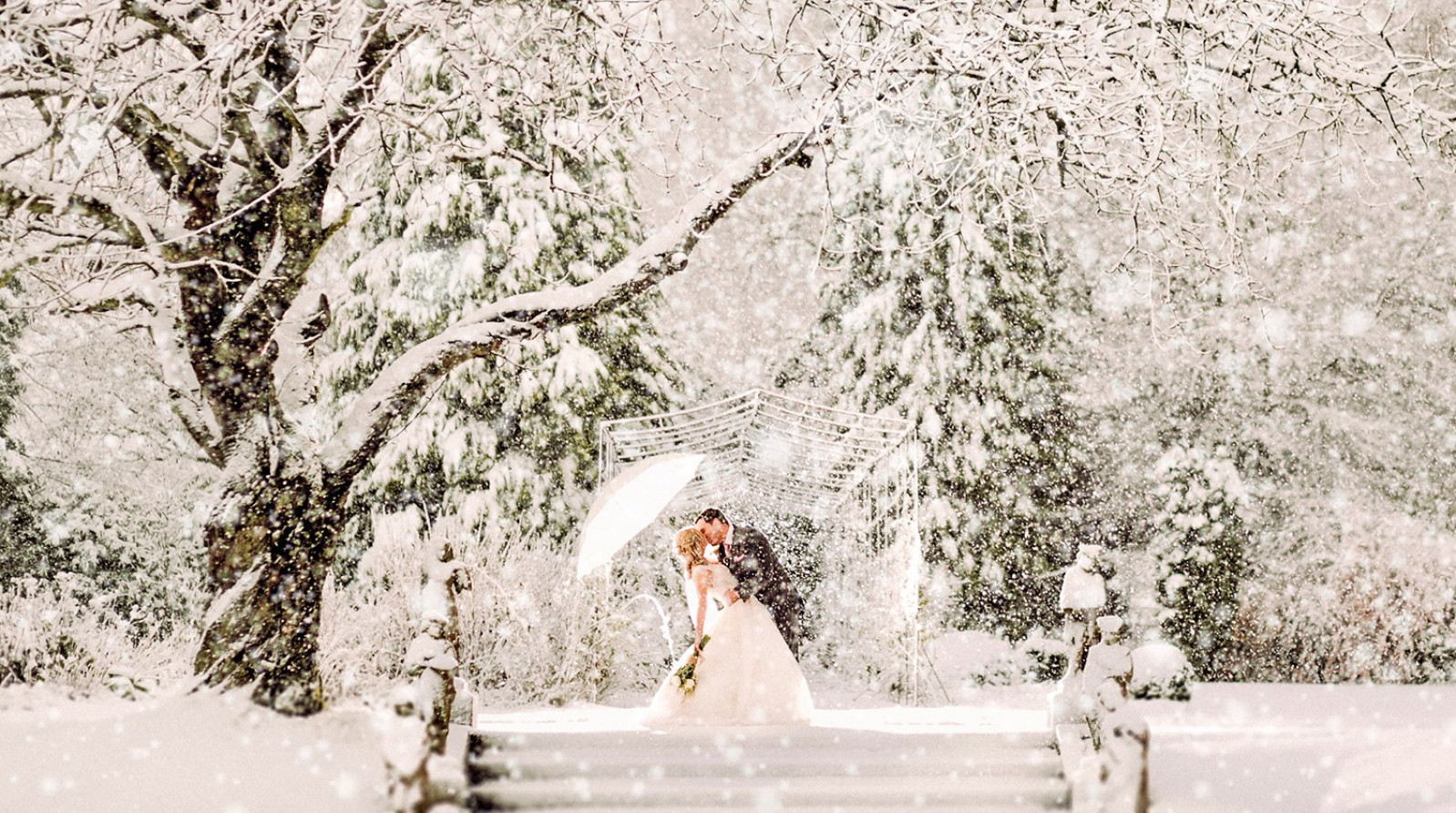 Cool Tips For Winter Weddings
Article Published 03/12/2019
COOL TIPS FOR WINTER WEDDINGS
Winter is coming…and so is your wedding! And while the weather and light changes, weddings at this time of year can be cosy, romantic and magical!
Here are a few things to consider when planning your winter wedding to help you get the most of of your big day…
HAVE AN EARLY CEREMONY


As the nights draw in it's a good idea to have a slightly earlier ceremony, especially if braving the outdoors for your wedding photo's is a must for you. Having a ceremony later than 2pm could mean you struggle to find time for your couple portraits before the daylight escapes you, so bare this in mind when planning out timings for your day.
WRAP UP BABY, IT'S COLD OUTSIDE!


For the guys a velvet blazer is ideal. It's a nice thick fabric which will keep the groom and groomsmen warm, plus is perfectly on-trend. Ladies… having a fur stole, cute cardigan or statement jacket will keep you nice and snug between your photo's but don't forget your bridesmaids need to stay warm too! This addition to their wardrobe will not only look great but can also give a different look to your indoor and outdoor photographs. Another great idea is adding a basket of warm blankets for your guests to snuggle up with as temperatures drop in the evening.
LET THERE BE LIGHTING!


You can't get great photo's without good lighting so think about how you can introduce a little extra magic and sparkle to add cosiness and atmosphere to your reception. Fairy lights, candles, up-lighters and light up letters are all great ways to shine a little more light on an already glowing occasion.
WINTER FOOTWEAR


We know how unpredictable British winters can be! And if your adventurous enough to brave the cold and wet on your wedding day it's a good idea to take some additional winter footwear with you. A pair of cute wellies or some boss boots can ensure that your wedding shoes don't get wet and muddy and can also add a quirky charm to your photos.
BE FLEXIBLE


Winter weather can be unpredictable so be prepared to go with the flow and enjoy it! There's a chance it could be snowing or at the least very cold and windy but as long as you embrace it and don't let the weather get you down you can get some amazing windswept or winter wonderland style photographs. Remember that the choice to go outside is yours and not your photographers so let them know beforehand if your happy to have photographs outside despite the weather.
DO YOUR PHOTOGRAPHS INDOORS


Another option is to keep all of your photography indoors so there's no pressure to brave the elements on your big day. When you're choosing a venue take a look at spaces that could work for your photographs and make sure these area's are available for you to use on the day. This means your formal photographs and couple portraits can be done anytime of the day without dragging your friends and family out into the cold.
YOU CAN STAND UNDER MY UMBRELLA


Have some nice umbrellas on stand by for outdoor wedding photographs. These don't have to be fancy simple black or white can often do the job unless your feeling creative and want to co-ordinate the colour with the wedding parties outfits, this can make for a really interesting photo should it dare to rain or snow on your big day!
CHECK OUT THE DECOR


We all know that come the end of November Christmas is the next big event in everyones diary ( other than your fabulous wedding of course! ). If you're wedding day falls at this time of year make sure you check out the decor at your venue before your big day to avoid any colour clashes or naff tinsel in your photographs. A well done shot of the newlyweds in front of a Christmas tree can look super cute so make sure you ask your venue about their Christmas decoration plans in advance so that you can relay this to your photographer and avoid any surprises on the day.
GRAB A BARGAIN!


Lots of venues offer discounted packages for weddings over the winter period which is another great reason to have your wedding at this time of year! A lot of people will also have time off work between Christmas and the new year so it's also great to accommodate your guests that might otherwise struggle to get time off. Remember if you don't ask you don't get! So even if your venue doesn't advertise discounted rates in winter its always a good idea to check with them to see what they can do.