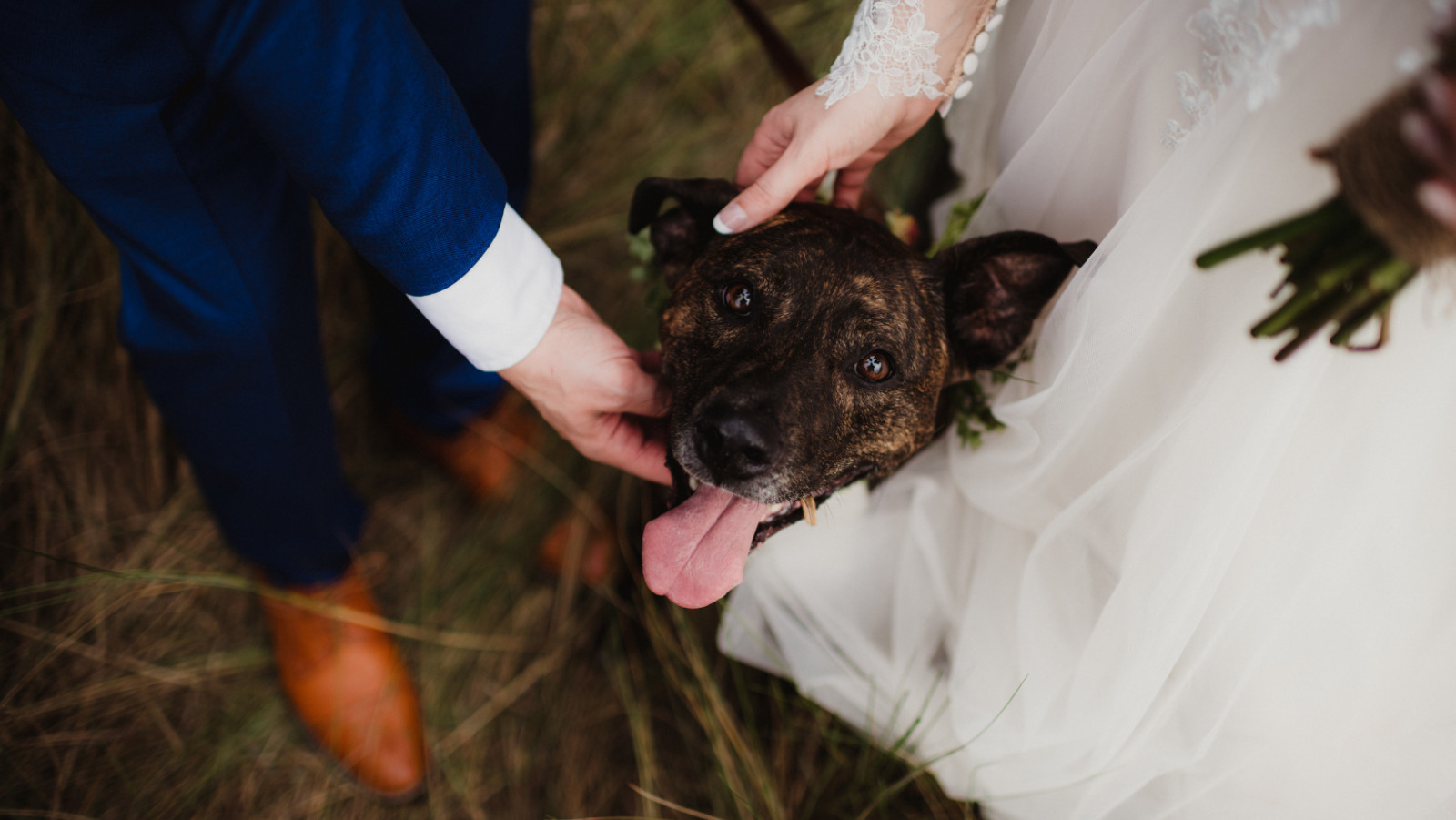 Bringing Your Pooch To Your Wedding
Article Published 25/08/2023
How To Incorporate Your Pets Into Your Wedding
Bringing your pooch along to your wedding has become an increasingly popular trend at weddings. A 'mans best friend' so why not involve them on your big day, as lets face it, they're family right?! As much as couples may have other furry friends back at home, dogs ideally are perfect to have at wedding due to being kept on a lead and will love the fuss from all your guests on the day, as much as we'd love to see cats at weddings too, this would totally stress them out being out of their comfort zone so please, if you are considering pets at wedding, keep it to the couples dog attending only. Believe it or not, I have seen wedding photographs where other Bridesmaids have bought their dog along to their friends wedding and have not informed the Bride & Groom and their dog has been captured in ALL their friends wedding photos without permission from the couple.
Alot of couples opt to bring their dog along to weddings during their couple portraits or family portraits, usually dressed up in the cutest bow tie collars or i've also witnessed them wearing a neckercheif which looks like they have a little bowtie and shirt on- they are simply the cutest guest there and is sure to get plenty of attention from your guests.
Some couples also opt to have their dog being the ring bearers down the aisle, should your venue allow this. I would advise not to have the actual rings anywhere near your dog for the risk of loosing them or even your dog swallowing them. Make sure your groomsmen have them instead for safe keeping. With the use of a bow tie collar or a floral lead to bring them down the aisle, they will certainly steal the limelight in that moment.
If you are considering bringing your dog along to your ceremony, be sure for them to be looked after by a trusted family member or friend so they can be returned home at a suitable time. If your lucky and have a beautiful hot summer day on your wedidng day, be sure to make sure that they stay in the shade until the wedding photographs and make sure they have plenty of water avaliable and also snacks to reward them for being good. I would advise having any photographs with your dog to be taken first to make sure that they can be returned home and kept cool. Photographs with your pooches make the most adorable 'thank you cards' to send your guests once you have your photos returned to you by your photographer.
If you wish to still incorporate your furry friends into your wedding without bringing them along, there are plenty of ways of still making sure that they are involved without them physically being there. For example, why not name a signature cocktail after them, send thank you cards with your furry friends on the cards, incorporate your pet into your wedding cake by asking your vendor to create a cake topper, simple ways to still involve your furry friend without them attending on the day..
Recently engaged? Find Wedding Photographers and Videographers all in one place! See exact prices, availability, message and book safely and securely... All for FREE . Compare wedding photographers & videographers
Browse all our amazing suppliers now
https://bit.ly/3bgLkFe