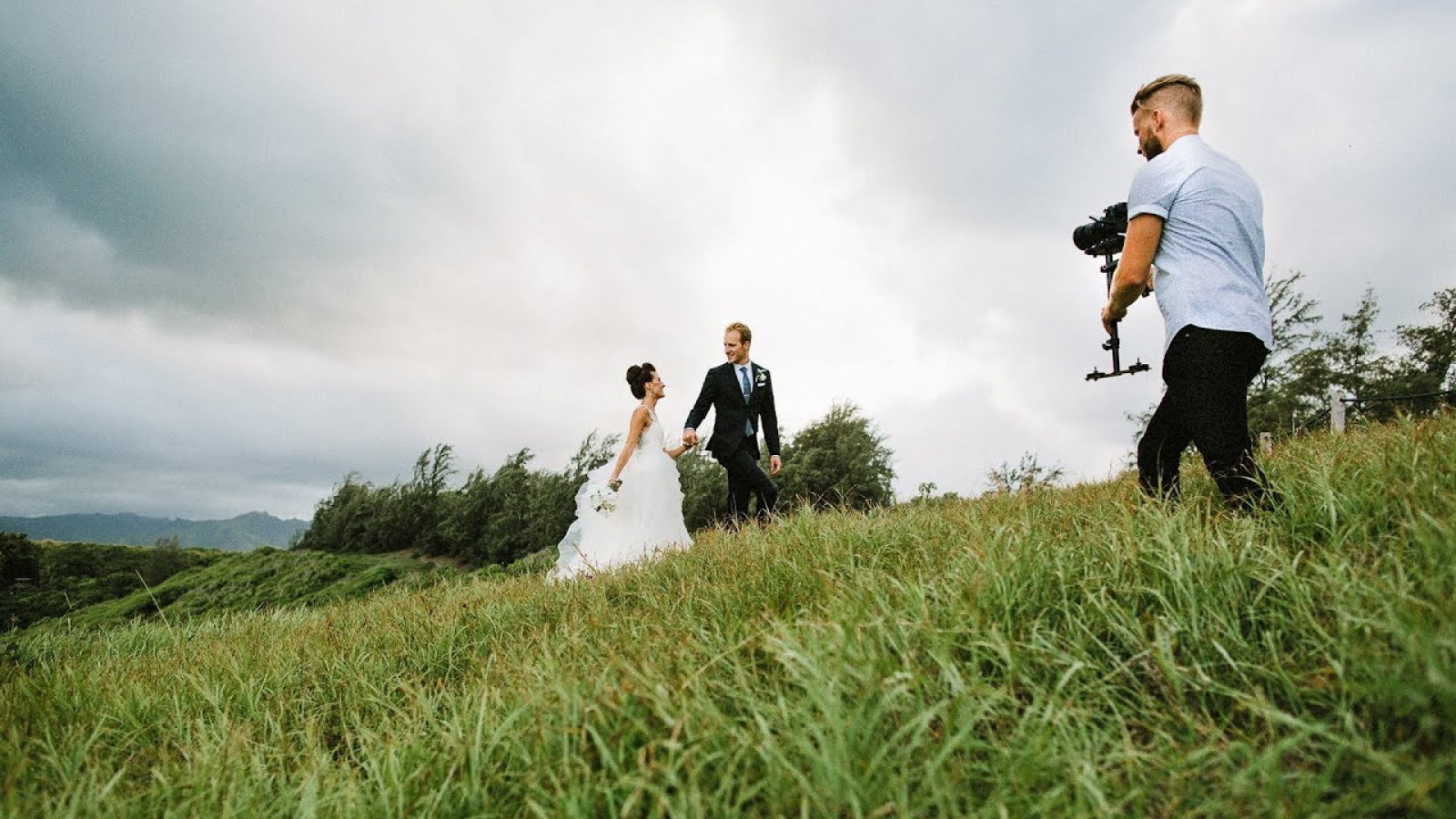 Don't Overlook Having A Wedding Videographer
Article Published 18/12/2019
Don't Overlook Having A Wedding Videographer
Wedding videography is on the rise in the UK as more and more couples are now adding a videographer to their day.
Wedding Videography is now cheaper than its ever been, the quality of small cameras now means that it's becoming very popular. Long gone are the days of holding huge 80s shoulder cameras. Now you can get amazing 4K HD footage on a small DSLR camera plus with the development of editing softwares you can get an amazing final product worthy of its very own Oscar nomination for a very reasonable price.
The average price for videography is around £1000 - £1200 for full days coverage.
What Do You Normally Get In The Final Package.
Videographers will offer different sorts of packages but we will list down the most common things couples will get.
A highlights trailer is a selection of the best shots from your big day that tells the story in a snapshot. Exactly like the previews you see at the cinema before the film comes on. It gives couples a glimpse into their day. Normally highlights trailers are around 4 - 7 minutes long and are often the first thing the couple will receive. It's normally put on the suppliers websites and social media for couples to share online with all their friends and family. The highlights trailer will come somewhere between 2 - 4 weeks after the wedding on average.
This is the big one! Your whole day captured and edited into your very own film. The full feature will include your bridal/groom prep, the full ceremony, the photo session/mingling of guests, speeches, first dance, cake cutting and the party (reception) ! They will normally run anywhere from 50 minutes to 2 hours. Sometimes they can be even longer if the best man goes on and on and on in his speech. :-)
Some videographers will do an extended 15 minutes highlights and then the full ceremony and speeches separate. Make sure you know what your packages offers and what you want.
Key Things To Know Before You Book
Sound - Sound is key on anything you watch, imagine going to the cinema and the sound being too quiet and muffled. You would complain very quickly. Make sure your videographer has microphones to mic up your ceremony and speeches. This will get clean crisp audio rather than taking the audio from the camera situated 15 feet away. The microphones used are very tiny and are called Lapel microphones that just clip on the grooms jacket and are so strong that the pick up all the brides audio too……Don't worry brides you wont need to wear a mic and ruin your beautiful dress.
1 or 2 Videographers - This all depends on your budget. 2 videographers can work very well in getting views from the back of the ceremony and the front. However a lot of single videographers often have multiple cameras and set these up before hand to run remotely. 2 will be better than just 1 however you can get just as good a final product with a very skilled single videographer.
Drones
We have done a separate video on drones at wedding so click here to watch this.
Videography can offer you so much. You can listen to the whole ceremony again, those vows, the readings. You can listen to the speeches again and again. Your family who couldn't make it can feel like they are there. Your kids can see and hear your wedding day in years to come. The day can go so quick that you will miss and forget certain aspects but adding a videographer means that you can catch up and relive everything time and time again. Photography is amazing but being able to relive your day, hear those voices, listen to those speeches is priceless.
Don't over look videography because a lot of couples we speak to have one regret…..Not getting the day filmed.
Bold statement but I would personally put videography before photography….Mic Drop!